Compostable Raw Material for Compostable Filament
WillowFlex is a custom formula of GreenDot Bioplastic. This raw material from GreenDot has been tested to meet both the EU 13423 and ASTM 6400 standards for compostability. This is a process that takes six to twelve months and has already been validated for the raw material. The certification could also be performed on WillowFlex to create a certificate for it directly as a compostable filament, however it would need to be at the request and cost of the customer.
Summary of Compostability
Biodegradablity under the action of micro-organisms to 90% in less than 6 months.
Disintegrability, fragmentation in the final compost to 90% below 2 mm .
Absence of negative effects on the composting process.
Low levels of heavy metals (below given max values)
Absence of negative effects on the final compost based on a plant growth test
The Value of Compostable Filament
There has been significant criticism of 3D Printing for just creating another stream of plastic trash. Printing with a compostable filament means that the products which have been created can be put into a composting system to return to nature and establish a circular product lifecycle. While many municipalities don't offer a way to include bioplastic in industrial composting, we expect that this will change in the coming years as bioplstics and compostable bioplstics become a larger part of the production stream.
In the meantime, compostable filament is an opportunity to 3D print objects and then add the plastic into a traditional composting scenario. Our experience is that the bioplastic has resolved to small pigment coloring after about 18 months in a healthy composting pile.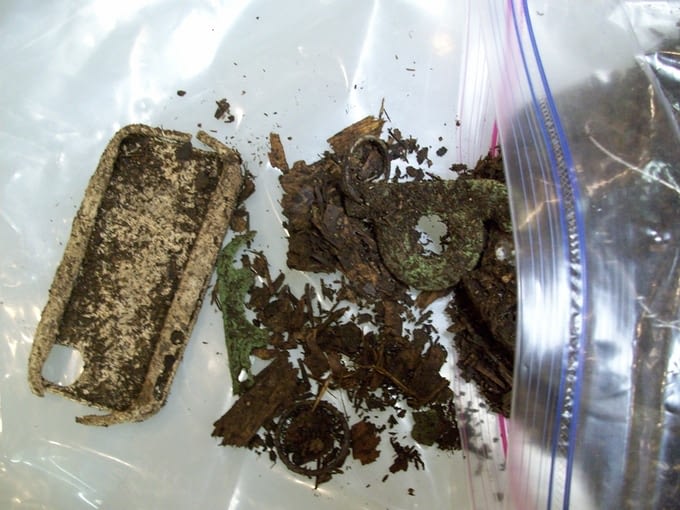 The Ingredients of Healthy Composting
A compostable filament will degrade only as fast as the surrounding conditions influence the process. This is always a balance of several ingredients; oxygen, heat, microbes and moisture. When these combine with organic material, it results in the decomposition process. There are a variety of different methods to help increase the speed of the composting process.

The level of compostability is also affected by the ability of microbes to access open surfaces on the material. This is especially important for prints made of WillowFlex. Fully closed surfaces or thicker layers will also have a longer decomposition process then thin layers, items which have been shredded or which have complex forms.
EU 13423 in Detail
The European Norm EN 13432, titled "Requirements for packaging recoverable through composting and biodegradation. Test scheme and evaluation criteria for the final acceptance of packaging," describes a standard set of criteria for determining whether a material can be considered "compostable". It was established by The European Committee for Normalisation (CEN) and is also published by (and can be ordered from) the British Standards Institution. This norm is a reference point for all European producers, authorities, facility managers and consumers.
EN 13432 is the most strict of all of the standards for evaluating biodegradability and compostability.
EU 13423 Summary
Nowadays, the terms "biodegradation", "biodegradable materials", "compostability" etc. are very common but frequently misused and a source of misunderstanding. The European Norm EN 13432 resolves this problem by defining the characteristics a material must own in order to be claimed as "compostable" and, therefore, recycled through composting of organic solid waste. The definition of the compostability criteria is very important because materials not compatible with composting (traditional plastics, glass, materials contaminated with heavy metals, etc.) can decrease the final quality of compost and make it not suitable for agriculture and, therefore, commercially not acceptable. This norm is a reference point for the producers, the public authorities, the composting plant managers, and the consumers.
According to the EN 13432, the characteristics a compostable material must show are:
Biodegradability, namely the capability of the compostable material to be converted into CO2 under the action of micro-organisms. This property is measured with a laboratory standard test method: the EN 14046 (also published as ISO 14855: biodegradability under controlled composting conditions). In order to show complete biodegradability, a biodegradation level of at least 90% must be reached in less than 6 months.
Disintegrability, namely fragmentation and loss of visibility in the final compost (absence of visible pollution), measured in a pilot scale composting test (EN 14045). Specimens of the test material are composted with biowaste for 3 months. The final compost is then screened with a 2 mm sieve. The mass of test material residues with dimentions >2 mm shall be less than 10% of the original mass.
Absence of negative effects on the composting process. Verified with the pilot scale composting test.
Low levels of heavy metals (below given max values) and absence of negative effects on the final compost (i.e. reduction of the agronomic value and presence of ecotoxicological effects on the plant growth). A plant growth test (modified OECD 208) and other physical-chemical analysis are applied on compost where degradation of test material has happened.
Each of these points is needed for the definition of compostability, but alone it is not sufficient. For example, a biodegradable material is not necessarily compostable, because it must also disintegrate during the composting cycle. On the other hand, a material that breaks during composting into microscopic pieces which are then not fully biodegradable is also not compostable.
The norm EN 13432 is a harmonised norm. That is, it has been quoted in the Official Journal of the European Communities, it has been implemented in Europe at a national level, and it provides the presumption of conformity with the European Directive 94/62 EC on packaging and packaging waste.
ASTM D6400 in Detail
The American Norm ASTM D6400, titled "Standard Specification for Compostable Plastics," describes a standard set of criteria for determining whether a plastic material, or product made from a plastic material, can be considered "compostable". It was established and is published by The American Society for Testing and Materials (ASTM). Multinational corporations and smaller firms and organizations worldwide have applied the ASTM D6400 standard, including BASF, DuPont, NatureWorks LLC, Metabolix-ADM (Archer Daniels Midland), Mitsubishi Chemical Corp., PURAC (The Netherlands) and many more.
Summary of ASTM D6400
This specification covers plastics and products made from plastics that are designed to be composted in municipal and industrial aerobic composting facilities. This specification is intended to establish the requirements for labeling of materials and products, including packaging made from plastics, as "compostable in municipal and industrial composting facilities." The properties in this specification are those required to determine if plastics and products made from plastics will compost satisfactorily, including biodegrading at a rate comparable to known compostable materials. Further, the properties in the specification are required to assure that the degradation of these materials will not diminish the value or utility of the compost resulting from the composting process.
This standard provides two separate definitions:
Biodegradable Plastic – a degradable plastic in which the degradation results from the action of naturally occurring microorganisms such as bacteria, fungi and algae.
Compostable Plastic – a plastic that undergoes degradation by biological processes during composting to yield CO2, water, inorganic compounds and biomass at a rate consistent with other compostable materials and leaves no visible, distinguishable or toxic residue.
Importantly, the ASTM D6400 standard requires 60% biodegradation within 180 days. This requirement is similar to the requirements of ISO 14855 and DIN V49000, but differs from the stricter EN 13432 standard, which requires 90% biodegradation in that time.
For a material to receive the new logo of the US Composting Council it must meet all of the requirements of the ASTM D6400.