Fashion-tech Designer and pioneer Sylvia Heisel partnered with Morphi, Ultimaker and WillowFlex to create a 3D printed dress, the "Names Dress" from compostable raw materials. The 3D printed dress is a fashion celebration of women who contributed to the advancement of STEAM fields and to promote environmental sustainability. The dress is part of the ongoing fashion show Sustainable Thinking in Florence, Italy to promote technology developments that also move forward sustainability.
Fashion Technology Pioneer
The point where art and technology cross has always been a breeding ground for innovation. The mind of a designer represents creation, bring new impulses into the world in the form of ideas and products. The engineer and scientist provide the structures and methods to bring those ideas to life and to the world at large. With technological innovation, the world has become a place of abundance for an ever increasing number of individuals. The individuals who are able to span both spaces like Sylvia Heisel, the fashion tech pioneer and head of design lab Heisel, provide the inspiration for industries and pathways to follow that have been validated by their experimentation.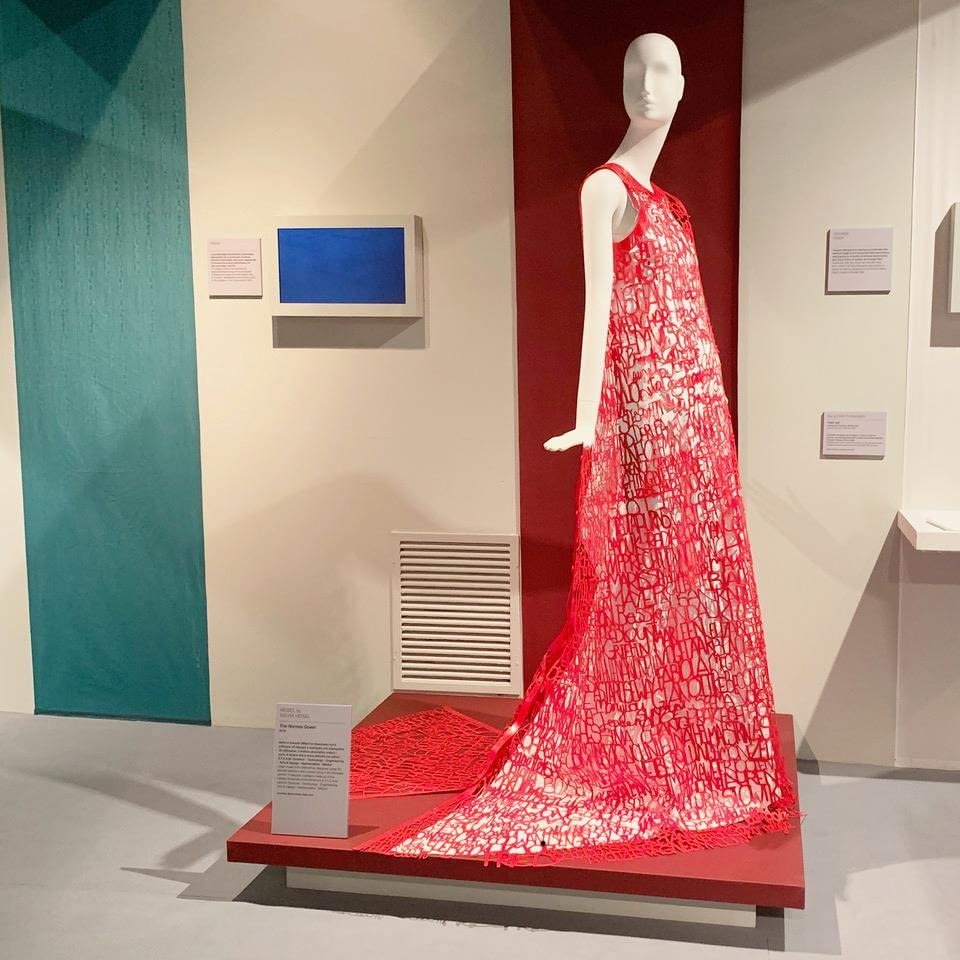 In April 2019, Sylvia Heisel announced one of her newest projects, the Names Dress. This 3D printed dress is a wearable conceptual art piece made from compostable raw materials and engineered with over 300 handwritten, 3D printed names of women in STEAM (Science Technology Engineering Art and Math) fields. It represents an ode to the woman who also helped pave her way into the field by bring concrete advancements to a variety of industries and helping establish women as important contributors to both artistic and technological fields.
The project was executed by moving from 2D signatures to 3D models using the Morphi 3D design software on an iPad and each name was 3D printed on Ultimaker 3D printers using WillowFlex 3D Print Filament, a flexible bioplastic made from compostable raw materials.
Strong Partners, Strong Execution
The project was a collaboration from its earliest conception of a 3D printed dress composed of the names of pioneer women in STEAM fields. The concept emerged from ongoing conversations that Sylvia had with her friend and collaborator, Sophia Georgiou, founder of Morphi, on the interconnected themes of women's empowerment, sustainability, design and tech. Liz Arum of Ultimaker was soon brought into the collaboration to compile a group of women to be included in the project based on their contribution to their fields.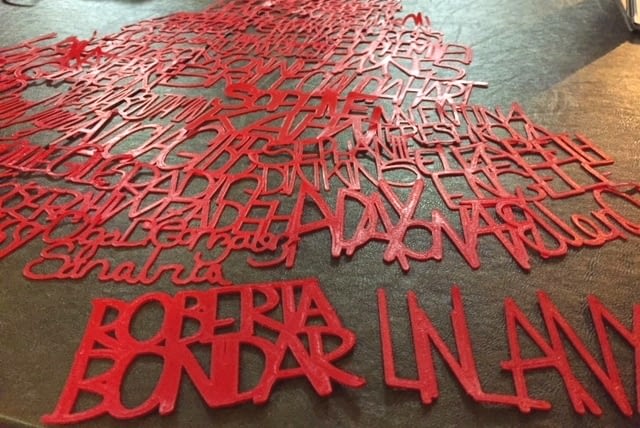 "While there are increasing numbers of women embarking on careers in STEAM, from inventors to mathematicians to scientists to artists using technology, the achievements of women in these fields are not always widely known or celebrated. The Names Dress is a tribute to women, known and unknown, historic and contemporary, in these interconnected and evolving fields. The 3D printed dress is also an exploration of the use of sustainable materials and techniques in creating innovative textiles and garments," says Heisel.
A pioneer in merging 3D printing technology with fashion design, Heisel is known for using additive manufacturing to develop sustainable fashion with zero waste. Her design process for the Names Dress was a fine balance between hand and machine. She initially sketched the dress with pen and paper, visualizing the architecture for how the names would come together to form fabric.
To create the textile for the dress, she wrote each name by hand directly into Morphi software on an iPad which quickly transformed each name into a 3D model for 3D printing on Ultimaker 3D printers using WillowFlex 3D print filament, a bioplastic from compostable raw materials. The names were then fused together into a 3D prined dress as a zero waste, continuous textile that could not have been made using traditional manufacturing methods.
"I completed the Art and Technology Program during my university studies where we met with innovators around Chicago who were using the internet and computing to take a completely different approach to design, to technology, to human psychology and to creating enriching human experiences. Sylvia Heisel is a clear extension of that trend by linking 3D printing and fashion design. WillowFlex is the third leg of the stool – a sustainable product that closes the circle of the product lifecycle. This trifecta is a perfect way to honor female contributors to the development of art and technology and inspire the next generation of producers using a 3D printed dress." adds Brian Crotty, CEO and Owner of WillowFlex.
The Names Dress is on display for a year at the Museo Salvatore Ferragamo in Florence, Italy as part of their Sustainable Thinking exhibition from April 12, 2019 through March 8, 2020. Short bios of the women whose names make up the 3D printed dress is available online as a companion to the exhibit.
For inquiries, reach out to Sylvia Heisel at [email protected] or Brian Crotty at [email protected].