Description
Natural color WillowFlex is the perfect way to show off the origin of this unique bioplastic, 3D printing filament. The resulting prints have a light cream color that provides a nice optic effect. All WillowFlex prints have a matte surface to the print as well for a unique printed object.
3D Printing Filament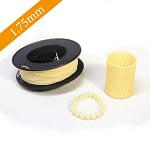 With our partners, we put a premium on quality in the production of our filament from raw materials that are unique in the world to 3D printing filament production by plastic producers with over 30 years of experience. We regularly hear that WillowFlex is easy to begin using, with only the "difficulties of flexible filament in general" providing the learning curve.
Delivered 3D Printing Filament
300g of Filament (spool weight not included in total).
Consistent Quality, Produced in Berlin, Germany
Made from Compostable Raw Materials
Printable at 175-185°C and 60-80mm/s.
Heat Resistant to 105°C
Cold Resistant to -15°C
Strong Layer Adhesion (including to PLA)
No heated bed required